DESIGNING RENCHI SPACE
What kinds of public spaces contribute the most to building memorable and attractive cities? As landscape architects, a large portion of my practice used to focus on ecology, natural processes, and material performances. The global urban age is happening at a dizzying pace and scale, and with a diversity and complexity that challenges the traditional design paradigms. Weaving human purposes into natural systems frameworks, we ideally tackle the urgent challenges of today by creating highly attractive places that provide unique spatial experiences and authentic regional identities.
Building celebrated and socially enduring public space requires having a deep understanding of what creates vitality, as well as working within a culturally specific framework to embrace the needs of contemporary cities. Spaces with Ren Chi are known for the "life "energy" radiating from people's activities there. Although not necessarily constructed with expensive materials or including iconic architectural landmarks, these places are highly effective in attracting people to stay, and in delivering the experience of being part of the culture and urban dynamics.
Guided by desired objective, rather than a set of prescribed physical outcomes, the Ren Chi design allows a variety of innovative place making solutions. Good Ren Chi spaces can be described by many prominent qualities, including the following:
1. Highly popular and supportive to daily uses
2. Well accessible from surrounding neighborhoods and major places
3. Enhance a sense of place and culture characters of the region
4. Program and space layout allow diverse activities to take place
5. Socially inclusive, inviting, and encouraging interactions
6. Human scale, with comfortable and user-friendly site furniture
7. Emotionally uplifting, inspiring and delightful
8. Informal and flexible, allow users to rearrange the space when needed
Why have many designers failed to create Ren Chi in their work? First, the absence of a liberal arts and social science methodology in the design process, including context research, post-occupancy analysis, and a set of tools from psychology and even neuroscience. Second, prevalent professional tendencies of our age place emphasis on individual and isolated actions and seldom address the shared ideas and continuity among different pieces and disciplines. As Holly Whyte once advocated in his sociology research for public space design, people should use "a new way of designing public spaces—one that is bottom-up, not top-down." Once the social DNA of the context is decoded, forms need to perform well under such guidance and offer an instrumental physical conduit to promote people's activities. In this way, we may begin to deliver more happy urban living experiences that are legible through the presence of Ren Chi.
In three highly successful public spaces in the image below, one can see how the quality of space attracts people to come and experience the amazing urban life at these memorable and celebrated places. Displayed in a scale bar ranging from natural to manmade place-making qualities, successful RenChi Space can bring nature and culture together in making comfortable and inviting places where people want to be. They can be very different in physical design arrangement, materials, and architectural style, but sharing common attributes of high popularity.
the images above: Shekou Promenade, Buffalo Bayou, and  Huter's Point Park. 
While looking at bottom-up design, what did we learn from citizen's spontaneous actions? In the book Insurgent Public Space, a collective body of story explored another mode of city making – citizen groups and individuals play a distinct role in shaping the contemporary urban environment with a more participatory and spontaneous approaches – appropriating, reclaiming, pluralizing, transgressing, uncovering and contesting. As cities and their social, economic and political dimensions have continued to change, the function, meanings, and production of public space have also evolved over time. By producing new typologies of public space that are not institutionalized and conventional, groups and individuals created new meanings, cultures and social relationship, express the freedom of subject. As a result, such public sphere demonstrates the inclusiveness and openness of our present society.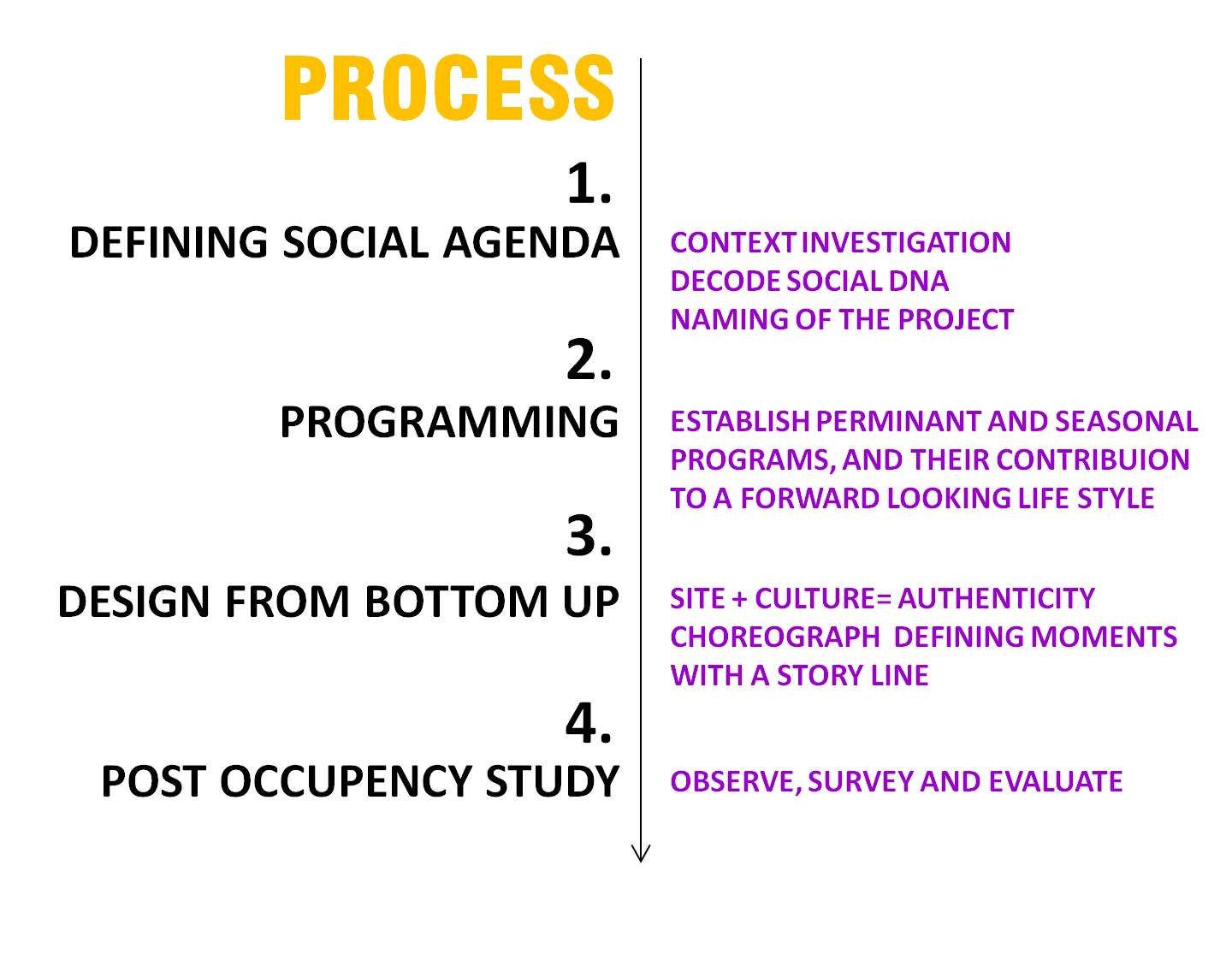 SOCIAL AGENDA GENERATED FROM LIFE STYLE, SOCIAL ACTIVITIES AND THE MOST MEMORABLE LIFE EVENTS OF LOCAL COMMUNITY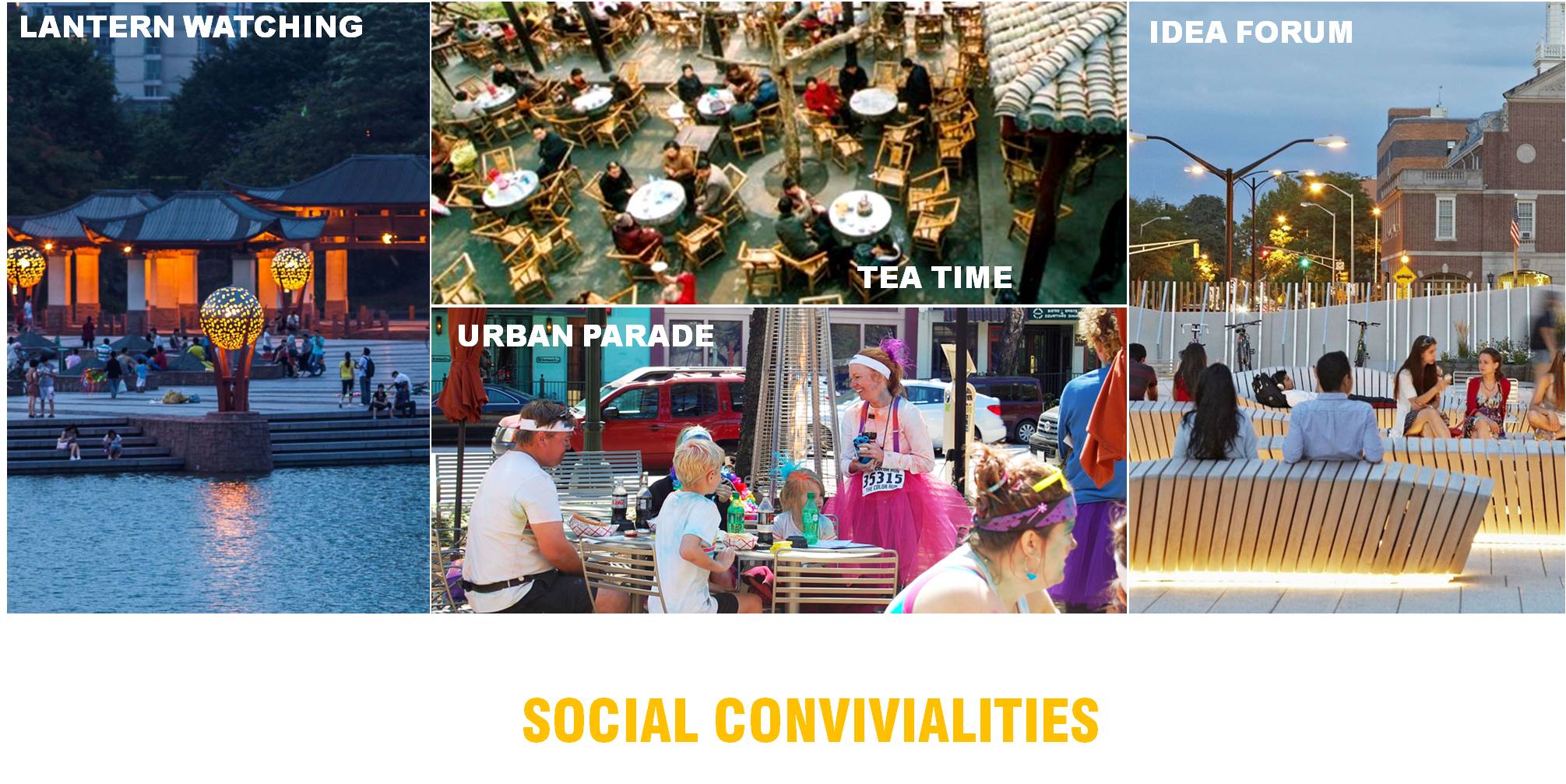 PROGRAMMING IS AN IMPORTANT STEP TO DEFINE WHAT ACTIVITIES HAPPY IN THE SPACE AT DIFFERENT TIME FRAME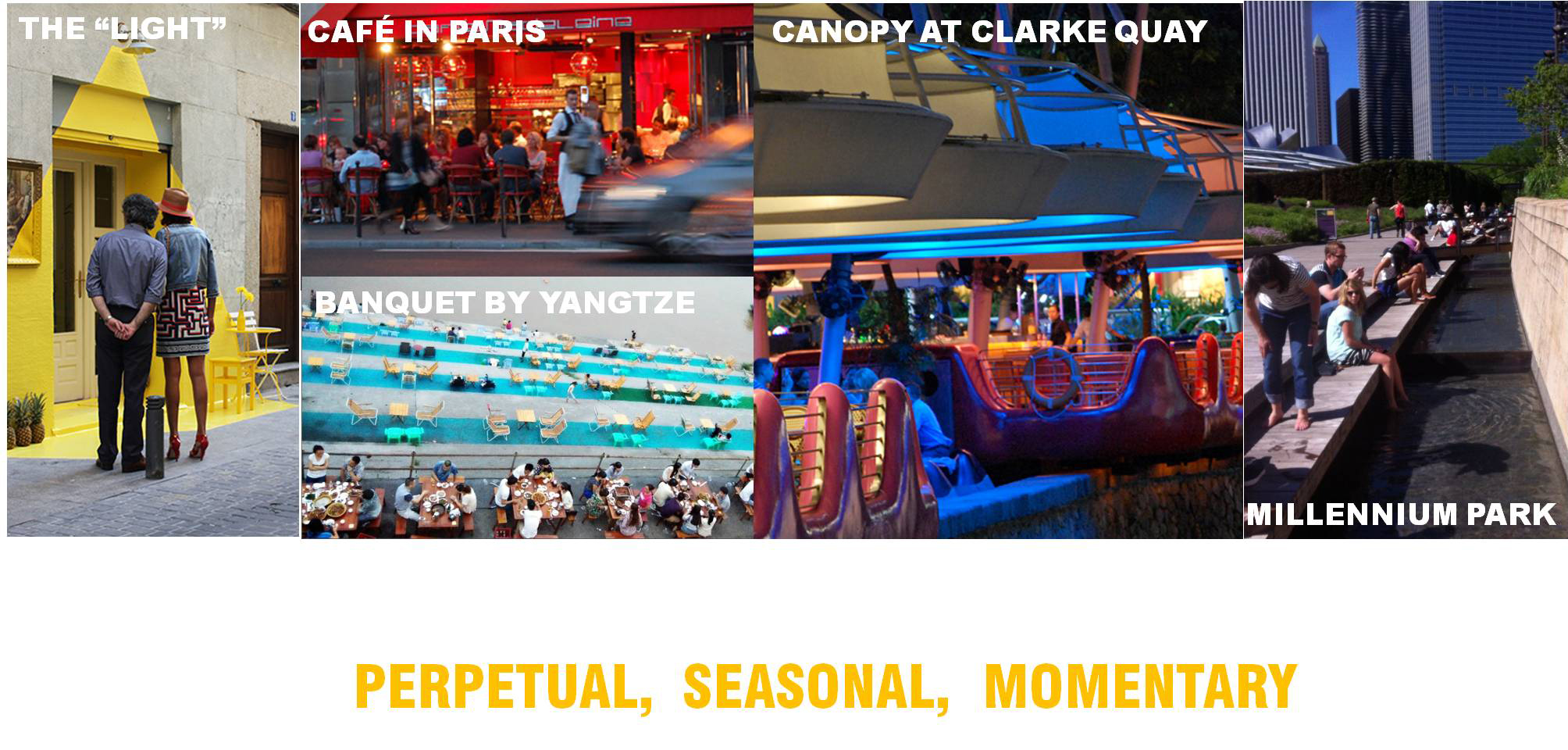 AUTHENTICITY IS A PRINCIPLE THAT RESPECTS THE CONTEXT AND PEOPLE'S DESIRE OF HOW THEIR CITIES SHOULD BE MADE