By Peiwen Yu
Shekou Memorial Terrace Proposal tackled an urban space upgrading solution for a waterfront tourism spot – the light house and captain bar of Shekou Peninsula. Located at the Shenzhen Bay Shekou Waterfront, the place is adjacent to a high rise residential complex and a trendy retail development that's currently undergoing construction – The Peninsula Boutique Shopping Street.  As one of the important nodes along the new Shekou Waterfront Leisure Belt, this waterfront terrace will upgrade the public space around light house and captain bar, expanding the narrow and out of date plaza space into the bay, and create an interesting encounter of urban life and nature.
Many travel blogs have commented the existing Captains Bar as a bright little gem next to the light house – a decorative structure with night time light display. The restaurant/bar is fitted with nautical décor, with vintage frames of old world navigation maps and endearing ship designs throughout. The place affords relaxing and subtle rustic charm. Proposed spatial transformation kept those two old buildings despite of its old-fashioned architecture style, and dramatically introduced a series of plaza and terraces with pockets of urban nature – sandy beach, textured gardens and natural boulders that are in contrast of the original manicured planting and generic plaza paving. The initial scheme was intended to create a place for entertainment oriented ambiance, responding directly to the retail street and bar building. This waterfront terrace is where people  take a moment to enjoy the bay breeze and relax after shopping and dining at Peninsula. See sketch below on how the terrace structure extended beyond existing sea wall.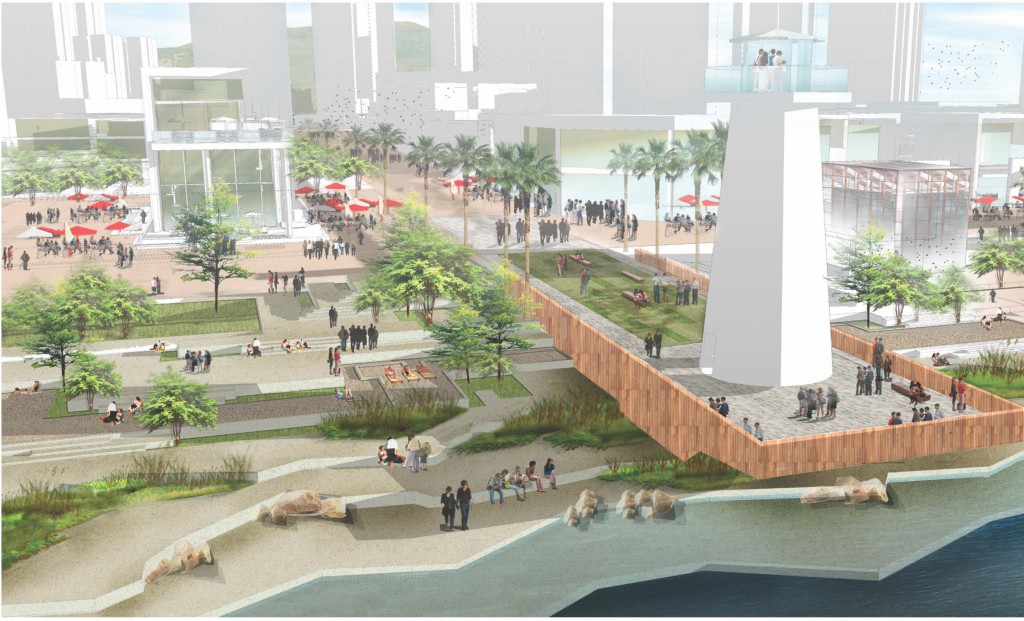 However when revisit the design; a broader context was taken into consideration, hoping to add another layer of experience that is history and cultural related, telling the memories of Shenkou's transformation. Since 1979, Shekou is going through some major changes.  Old factories are being rapidly converted into cool new office space as the former "Shekou Industrial Zone" continues to transform into a prime residential, office and commercial area. Today, the waterfront leisure belt is no longer feeling connected with hinterland due to all the waterfront building blocks, but decoding  Shekou's culture DNA help to  identify the meanings of place and infuse them into urban public realm. They remind people what used to shape the city's progression. See diagrams below on how the meanings are translated into place making materials and forms, and the latest design scheme.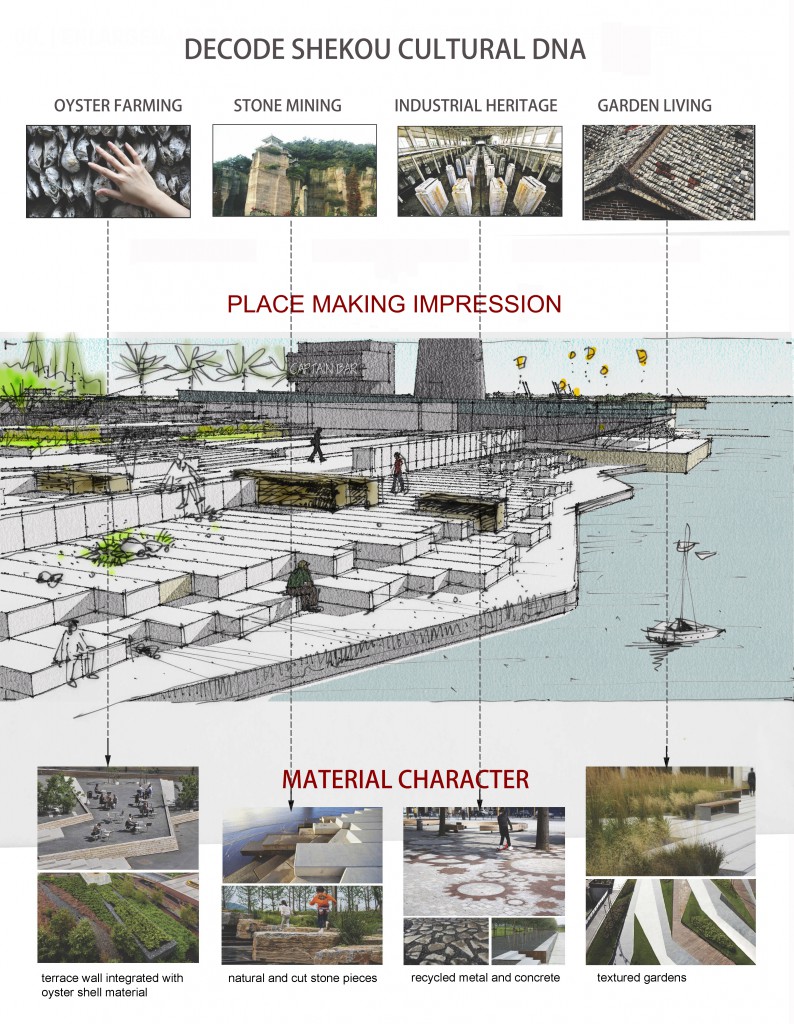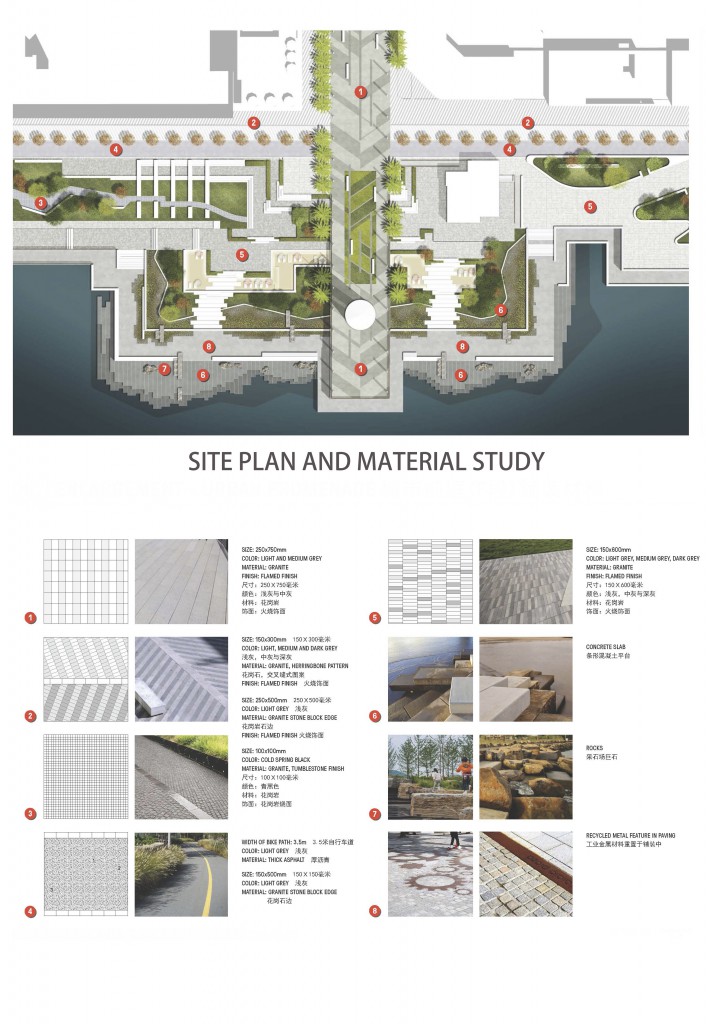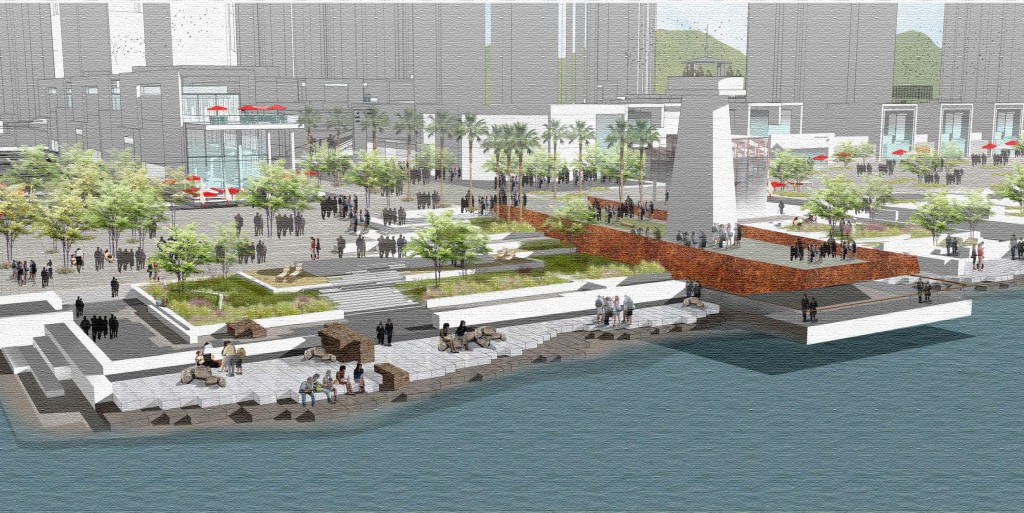 Graphics prepared by Peiwen Yu and Kunkook Bae at SWA Group